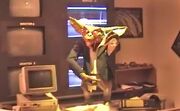 Sierra the gremlin's movie is a possible upcoming sequel to the 1990 film, Gremlins 2: the new batch
Production
Announcement and development
In January 1999, Sierra studio's reported that Warner Bros. was negotiating with Steven Spielberg's Amblin Entertainment to reboot the odd couple and Gremlins franchise. Sierra morrow was originally set to produce along with Paramount pictures, but soon quitted the project. Tony randall, the actor for Felix unger, confirmed that it was a sequel and not a reboot. Chris Columbus (who is the creator of the characters) is set to direct the film.
Gremlins' Design Change
Columbus stated in November 1999 that the Gremlins would not have their CGI designs but will be having puppets and animatronics.
External links
Gremlins 2: the new batch on IMDb