Jurassic World: Dominion Dominates Fandom Wikis - The Loop
Play Sound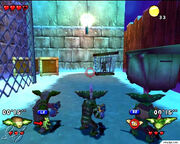 thumb|left|300px|GIZMO test modelthumb|left|300px|Unreleased arcade game footage328px|Intro to the game
Between 2002 and 2003 LSP (Light and Shadow Productions) was developeing a gremlins game to be released for the PS2 and Gamecube videogame systems. Not much is known about it however it seemed to be a third person squad shooter where you could be on a Gremlin or Mogwai team. It was cancelled before it was finished.
Features
An innovative game play for an action platform game that combines varied phases of shooting and strategy
Teammate management that is both easy to use and complete! Learn to master the commands that will enable Gizmo or Stripe to command their troops
Two unique adventures, depending on the selected character (Gizmo or Stripe), providing an impressive game lifespan
Two captivating one-player adventures (Adventure mode or Quick Action) and a 100% action Multiplayer mode with cooperative play!
Gigantic worlds (11 game levels in 3D): revisit the School, the Town Hall, the Gaming Room, the Bank, the Courthouse, the Cinema and more
The game lets you discover many original characters, each with their own special traits
Find gangs of Gremlins (mafia, scientists, policemen, and others) and fight their bosses using special techniques
Many animations have been included to enhance the story and really put you right in the 3D world of the Gremlins
Story
It is time for commemorations in Kingston Falls and 20 years have passed since the disaster that occurred when the Gremlins came to town: plundering, destruction and persecutions have left a bitter memory in the minds of the peace-loving residents of this small town.A large party is organized for all the town's inhabitants to pay homage to Gizmo, the courageous Mogwai, and Billy, the two heroes and Gremlin fighters. But inadvertently that night, Gizmo gets splashed with just enough water to provoke the emergence of a new Mogwai with a white mane, Stripe, who has plenty of mischievous intentions. Stripe manages to stir up trouble in the dance hall and locks all of its occupants up tight so that he can attempt to take control of the city, multiply and let chaos rule again.